Open the Book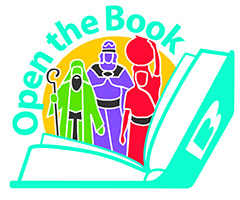 'Open the Book' began in Bedford in 1999 as a project to tell children the story of the Bible. It quickly spread, and in 2008 became a national organisation, based in Gloucester. Otley began the project in 2005 as a means of the parishes working together, and now has over 70 volunteers going into 17 primary schools on a regular basis telling Bible stories.
So what is 'Open the Book'?
Open the Book is designed for children aged 5-11 years and aims to tell the story of the Bible in 30 sessions, beginning in Genesis and ending with the Ascension. It is most suited for use in assembly/collective worship and is led by trained storytellers from local churches.
About the stories….
The stories are taken from 'The Lion Storyteller Bible' by Bob Hartman. Bob is the author of numerous books and a story writer, teller and trainer of international standing. Many of our storytellers have been trained by him and inspired by his enthusiasm for story and storytelling.
About the props….
Each story is supported by a special set of props and visual aids which are stored centrally in order to be made available to all participating parishes/churches and schools across the area. Our talented props team has put in many hours of work to make these unique and, in some cases, very special works of art.
About the storytellers…
All our storytellers are volunteers from local churches, and are trained in storytellingtechnique, school protocol, and in the all important area of child protection. (however, atleast one member of staff should always be present at the assemblies). They are also asked to undertake to keep to a set of guidelines underlying the project.
After the first stories….
We have produced 33 more stories to add a second year to the project. These are in blocks of 3 – 6 stories and include the story of Pentecost and the early church. Others include the story of Moses, Samson, Elijah and Kings. A set of New Testament stories looks at Jesus and His friends, Jesus the healer and Jesus the teacher. *
At the completion of all 63 stories some churches are taking a break, whilst others are going back and repeating Year 1 again.
A complete list of the stories we have is available here…..
* Otley started Year 2 before the National OTB curriculum was made available, therefore the choice of stories is slightly different.
For more information about 'Open the Book', visit the national website at http://www.biblesociety.org.uk/about-bible-society/our-work/open-the-book/
Pictured left: The Archbishop of York visits an Open the Book Assembly.